FROM THE MODERATOR – September 2015
When the Son of Man comes, will he find faith on the Earth?
"We are as guarded and concerned about our place here as we ever have been. Some in our community are not sure if we're welcome." said a Queensland muslim leader. "We are reaching out to our young men who are vulnerable – without work, from broken homes, seeking to enfold them into our community" said a Muslim youth worker. Engaging at a distance, through the veil of the mass media, one can think many things. Sitting face to face with people, listening, being with leaders who have a heart for their people, this pulls back the veil. A small group of Christian and Muslim leaders are working on building understanding and solidarity between Christians and Muslims in Queensland. Some of our congregations are working on this. This is the most effective space for us to work; given the way the media works in our land, it's our only space, really.
In some ways, we are dealing with the most prime of human fears, the fear of the other who is different; the struggle to recognize to any consequential depth our common humanity, our shared destiny, let alone see the gift of the other. This pops up in many places, even within the life of our own church. It's kind of wry – hopeful, even – that the two Christian representatives were from the Catholic and Uniting Churches: both Christian communities in their names – Catholic (universal) and Uniting (bringing together) seem to be pointing to the core of the gospel message that this fear can be overcome.
Christianity is a universal faith; it believes it deals with the whole of creation and subsequently, the whole human family. That brings great hope and a tremendous vista to our own individual lives. It's meant to engender a confidence, a faith that we don't have to worry about ourselves; we can "worry" about bigger things – justice, mercy, equity, fulfilment, quality human community. Yet a universalist faith has a shadow side that must be recognized – it can become subsumed to the fear of the other such that we start believing everyone must become like us. We become blind to our common humanity, and our faith becomes something other than that to which Jesus bore witness. It was that fear that Jesus confronted; it was that fear that led to his rejection and crucifixion. It was that fear that was conquered in his resurrection. The Lord be with you.
Rev David Baker
October 2014 Queensland Christian and Islamic Leaders Meet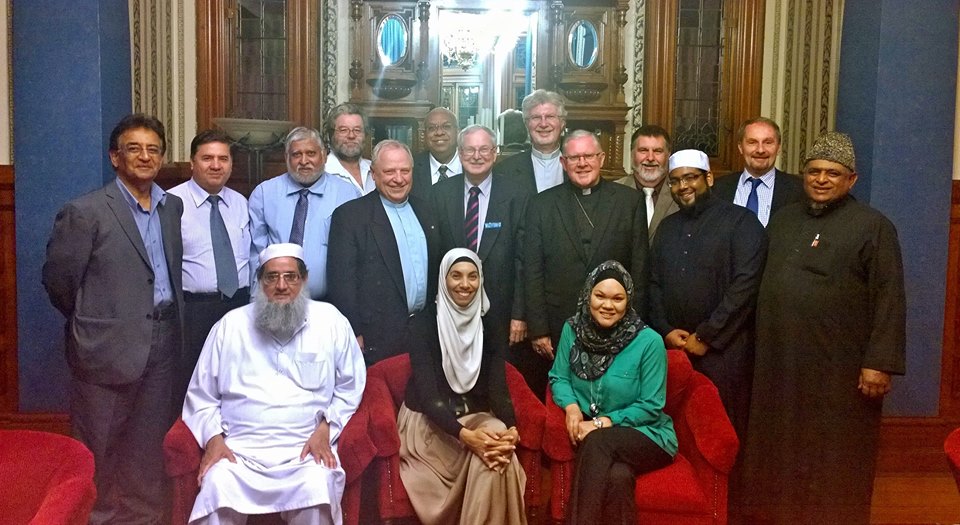 CHRISTIAN AND ISLAMIC LEADERS MEET
OCT 23, 2014 | BRUCE MULLAN | NO COMMENT | QUEENSLAND SYNOD NEWS
Uniting Church Moderator Rev David Baker was one of the Queensland Heads of Christian Churches who met with leaders of the Queensland Islamic Community in Brisbane on Monday.
Mr Baker said it the meeting was called to consider ways of strengthening relations between the Christian and Islamic communities in the State and to promote respect and harmony.
The meeting was initiated because of concern over recent negative attitudes expressed toward Muslims and particularly Muslim women.
The meeting was repulsed by such actions, called upon Queenslanders to respect the right of all Australians to enjoy freedom of religion and discussed how to promote understanding and tolerance between people of different faiths.
"It was a significant opportunity to hear the stories of Muslim people who are deeply committed to and appreciative of the Australian way of life but who find themselves marginalised and having their commitment to this nation questioned," said Mr Baker.
As well as members of the Queensland Islamic Council, representatives of the Council of Imams, Crescents of Brisbane and the Australian Muslim Advocates for the Rights of All Humanity (AMARAH) attended.
Other Churches represented at the meeting included Anglican, Roman Catholic, Churches of Christ, Congregational Federation of Australian and New Zealand, Australian Christian Churches, Presbyterian Church of Queensland and the Wesleyan Methodist Church of Australia.
Further meetings of the Heads of Churches and the Islamic Council of Queensland will be held in 2015.
Journey October 2014
October 2014  31st Synod of the Queensland Uniting Church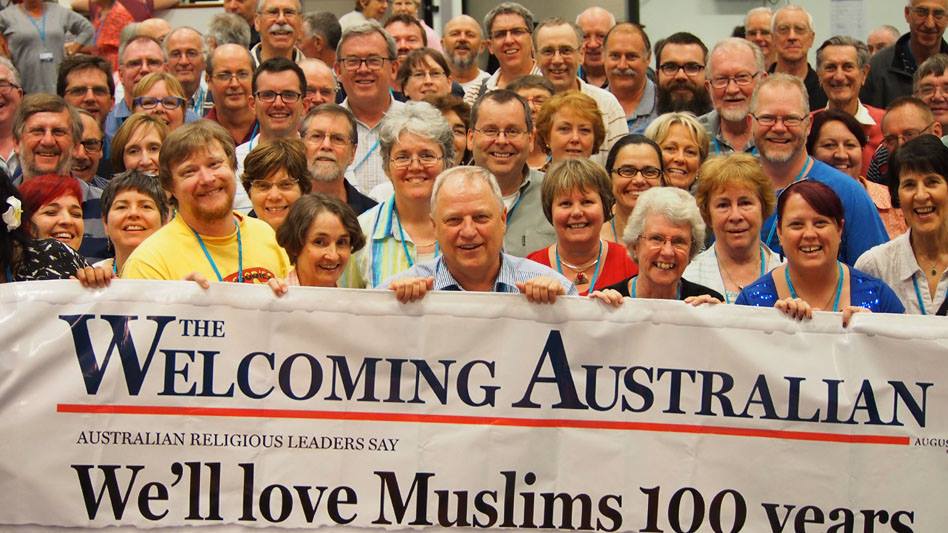 Relations with other faiths
A proposal was brought by Rev Heather Griffin and Rev Ann Hewson, arising from the Moderator's report, to bolster the interfaith work already underway in the Queensland Synod.
"With the rise of ISIL, the climate of fear of Muslims has risen to new levels," said Heather. "The fear that leads to violence, injustice and misunderstanding is present in all our congregations and agencies, and the love of Christ needs to overcome this fear."
Synod members resolved that "positive and respectful relations between members of world religions is an imperative", directing the Synod Interfaith Relationships Committee to continue disseminating educative resources.
The Synod also asked presbyteries to encourage congregations to explore being Christian in a multi-religious world and seek opportunities to promote understanding and positive relationships among people of all faiths in their communities.
Journey October 2014
September 2014  Public stand against intolerance at Kuraby Mosque
Christian and Muslim Leaders gather at Kuraby Mosque
YouTube links
 Part 1: Indigenous acknowledgement to country, Mohamad Abdalla, David Busch
Part 2: The Christian reps come forward, the statement is read
September 2014  The Queensland Forum for Christians, Jews and Muslims visits Indooroopilly Uniting Church
On Tuesday evening of 16 September members of the Queensland Forum for Christians, Jews and Muslims shared stories of their families and their faith with those gathered at Indooroopilly Uniting Church.
August 2014 Managing a Multi-faith response to disaster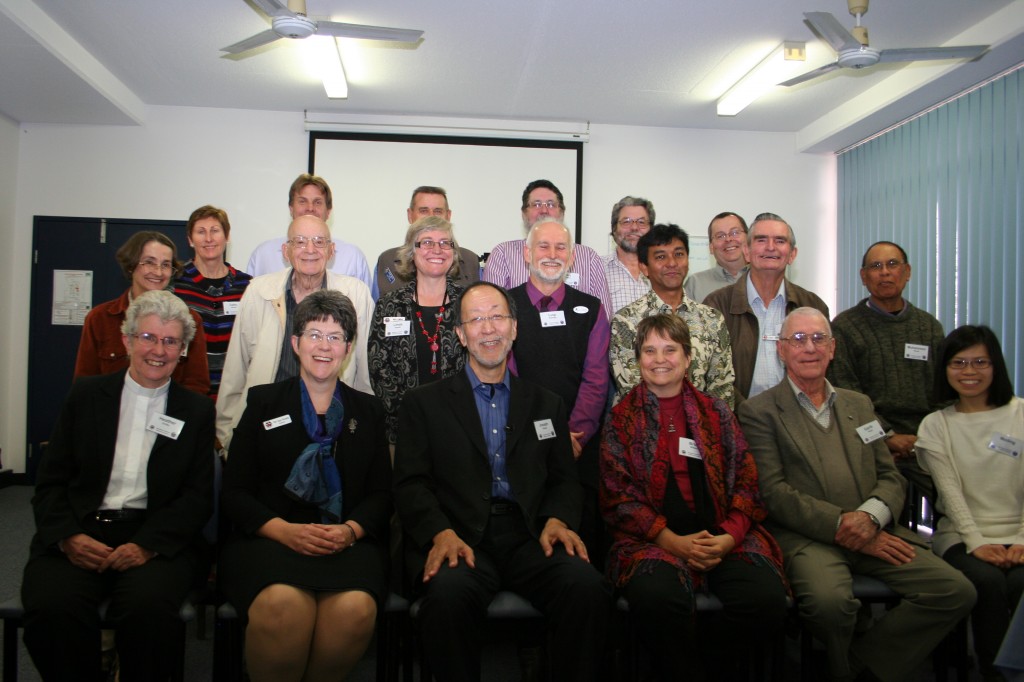 April 2014 Visit by the Goodwill Committee Of Toowoomba

May 2013 30th Queensland Synod
The Synod Ecumenical Relationships Committee and the Synod Interfaith Relationships Committee shared many aspects of their work with members of the Synod at a "Breakout Session". Presenters were Rev Jock Dunbar who spoke about ecumenical and interfaith relations between leaders in the Mt Gravatt area, Rev Garth read who spoke of the journey of Aspley Uniting Church as they pondered what their relationship might look like with people of other faiths in their local area, Rev Heather Griffin gave an overview of this website and Rev Dr Clive Ayre talked about environmental issues to which people of most faiths are committed.  His own theological reflections can be accessed here.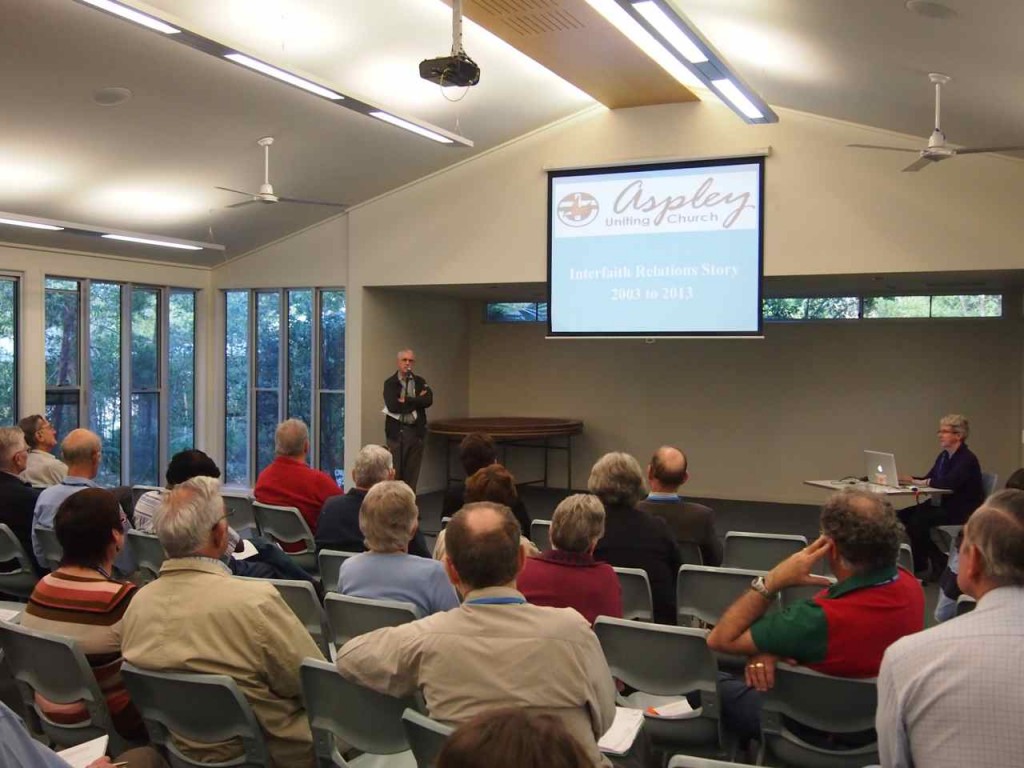 April 2013 Uniting Church Ministers and Imams meet at Auburn
On 17April 2013 two members of the Queensland Synod Interfaith Relationships Committee (Rev Garth Read and Rev Heather Griffin) joined 13 other Uniting Church Ministers in a landmark meeting with 15 Muslim scholars, Imams and leaders.
The conference titled "To Love God and To Love Neighbour" was hosted by Al-Faisal College in Auburn, Sydney and was jointly sponsored by the Australian Islamic Cultural Centre and the Uniting Church Assembly Relations with Other Faiths Working Group.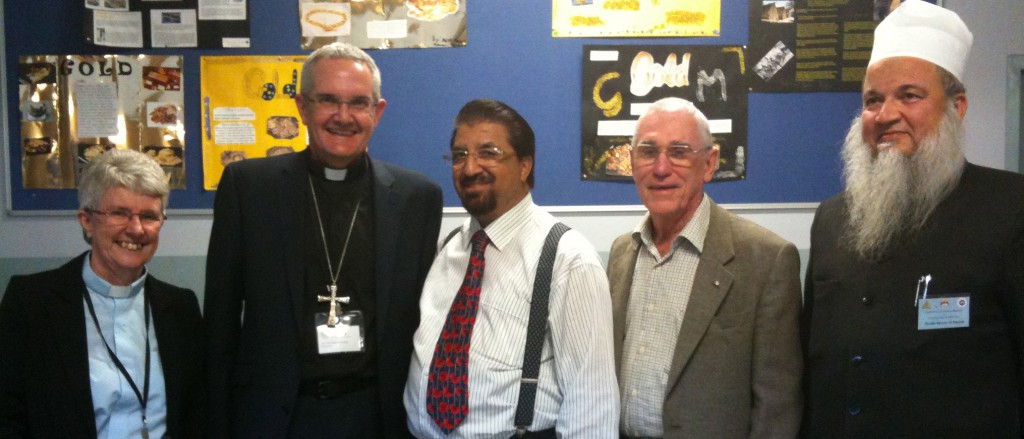 Australia Day 2013
The Moderator of the Queensland Synod, Rev Kaye Ronalds, respresented the Uniting Church at the annual Australia Day Celebration of Faiths service held at 12.15pm on 26 January 2013 at the Piazza, SouthBank, Brisbane. Faith groups from across Brisbane united to share messages of togetherness.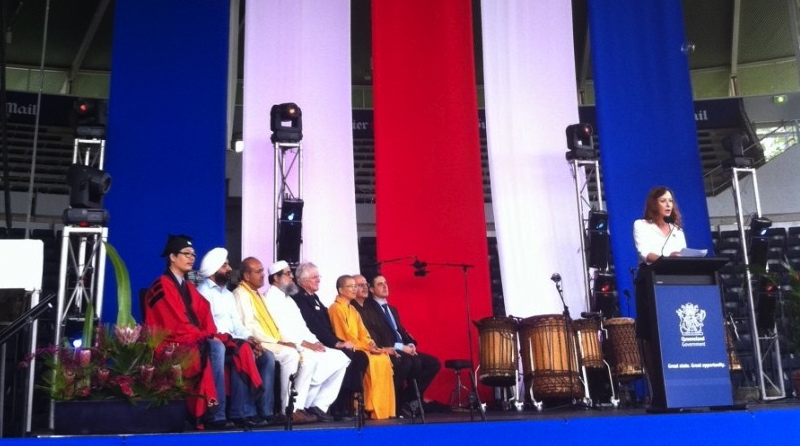 ________________________________________________________________________
2012
Some Uniting Church members have been privileged to attend and participate in Multifaith Forums sponsored by the Multifaith Multicultural Centre in Toowoomba.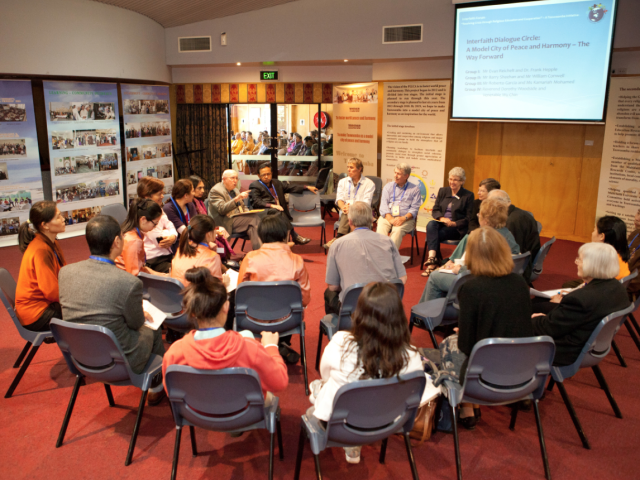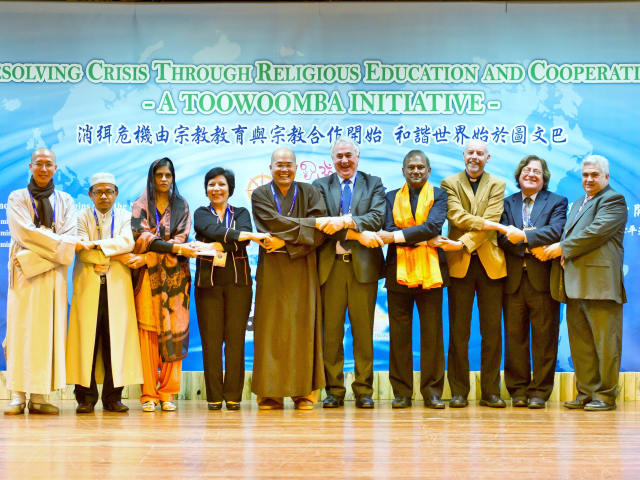 An inspiring paper
Faith and Spirituality: Building a Culture of Peace
Mohammad Abdalla Imam at the Kuraby Mosque, Brisbane and Lecturer at Griffith University, Brisbane
________________________________________________________________________
Refugees in Auburn
ABC Radio National Encounter program June 19th 2011 – . A story of inclusion and acceptance.
---